Speedy



Real Name

Roy Harper

Alias

Arsenal

Red Arrow

Race

Human

Gender

Male

Affiliation

Teen Titans, Titans East

Relatives

Powers

None

Weaknesses

Any human weakness

Equipment

Various trick arrows.
The ex-partner of the Green Arrow as he appears in fan-fics.
Portrayals
Edit
Speedy usually keeps his status as the Robin of the Titans East.
While possesing no powers of his own, Speedy does have various trick arrows he uses in battle.
Weaknesses
Edit
Being only human, he's vulnerable to many of the weaknesses many others are vulnerable to.
Speed Demons 2.0
Edit
Speedy is still a member of the Titans East. He was called in for backup before Superboy and Kid Flash fought Captain Cold. Speedy pinned Captain Cold to the wall with one of his arrows.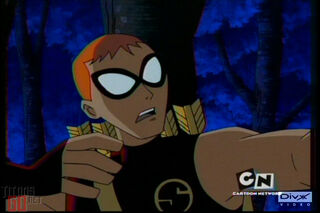 Speedy was among the Titans East who saw Superboy sleeping on the roof of their tower. Speedy then discouraged Jinx's idea that he was dead when the little boy turned over a little. He then told Kid Flash to get ready for a shock when he showed up. Speedy then laughed when he learned that the boy was the son of Superman and laughed harder when Robin suggested that Superboy flew up. Speedy then joked that he saw a dragon fly. He was then shouted at by Robin and agreed he'd help Superboy out.
After Superboy cleared his mother's name, Speedy cheered with the other Titans East.