Injustice Gang



Base of Operations

Metropolis

Leaders

Lex Luthor

Founding Members

Lex Luthor, Cheetah, Star Sapphire, Solomon Grundy, Copperhead, Ultra-Humanite, Shade

Notable Members

Lex Luthor, Joker, Solomon Grundy, Copperhead

Subgroups

None
Lex Luthor's
team of villains as they appear in Teen Titans fan-fics.
Leading Members
Edit
Lex Luthor leads the Injustice Gang with an iron fist but usually ends up in trouble because of it.
Notable Members
Edit
Lex Luthor
Solomon Grundy
Copperhead
Subgroups
Edit
None
Only a Dream
Edit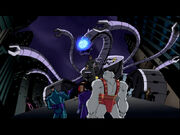 In John Dee's dream, the Injustice Gang had reformed and invited him into their ranks.