Galfore



Real Name

Galfore

Alias

No information

Race

Tamaranian

Gender

Male

Affiliation

Teen Titans

Relatives

Powers

Super strength, flight, star bolts, eye lasers

Weaknesses

Allergic to metal chromium

Equipment

None
The ruler of Tamaran as he appears in fan-fics.
Portrayals
Edit
Galfore is usually portrayed as his usual fatherly self around Starfire and the ruler of Tamaran.
As a Tamaranean, Galfore has all the powers that Starfire's people possess.
Weaknesses
Edit
It's possible that Galfore's alergic to metal chromium as Starfire comented that it's very common on Tamaran.
Tamaran Again
Edit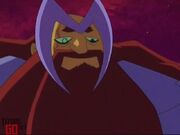 Several months after the incident with Blackfire, Galfore invited Starfire and all the Titans, including Blackfire, to Tamaran for Blorthog. He greeted them once they arrived and complimented Blackfire on joining the good guys. He then greeted Alex Lang and said Starfire picked a good boyfriend. He then bowed in front of Superboy once he learned that he was Superman's son. Following that, he called Terra's powers interesting. On the way to the palace, Galfore learned of Starfire and Blackfire's exploits since they last visited. Galfore then participated in an arm wrestling match with Superboy that Superboy won, which he congratulated him on before asking Starfire to check on Blackfire. When the Titans left, Galfore wished them farewell.